Tagalog is one of the lesser-known Asian languages, but it is quite an interesting language just the same. While it is only spoken in the Philippines and in some parts of the words where Filipino expatriates reside, it is a language that is worth learning, especially for those who are planning to take a vacation in the Pearl of the orient.
Unlike most other Asian languages, Tagalog (or Filipino as it is formally known), is composed of Romanized letters instead of symbols as in the case of Mandarin, Hindi, Japanese, and many others. However, it is still a challenging language to learn, especially for Native English speakers as well as those who grew up with Western languages.
In any case, Tagalog can be acquired as long as you have access to the right tools and effective instruction. Rosetta Stone Tagalog is one of the programs offered in the Rosetta languages system, and it is certainly one that is worth considering. Below is a thorough review of this program, which includes all its pros and cons as well as other facts that would be useful in making an informed decision.
What is Rosetta Stone Tagalog?
This language software targets customers who want to learn Tagalog and get acquainted with its intricacies as quite a unique Asian language. It consists of online as well as offline tools that are designed to achieve fluency and mastery within a certain time frame.
Main Benefits
Interactive Language Learning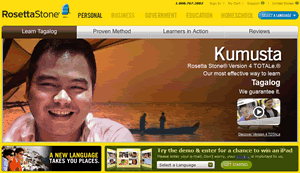 One of the most important facts to remember when in the process of acquiring a new language is that boredom can set in any time. Regardless of how motivated a person is to learn, there comes a point where the entire process will become stale, which eventually leads to loss of interest and subsequent quitting. Rosetta Stone Tagalog has been designed to not only be informative but also interesting enough to keep its users focused.
Apart from the solid information you can expect from Rosetta Tagalog, there are also other features that provide entertainment value, such as games and live online sessions. What Rosetta aims to provide is a multi dimensional type of learning experience, which is about not only learning words and sentences but also having a fun at the same time.
Mp3 and CD Player Compatible Audio Lessons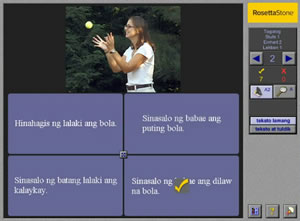 For those who do not have the time to sit in front of a computer for hours at a time, Rosetta Stone provides an alternative learning tool that can maximize users' time. The audio lessons can be downloaded and transferred to an mp3 device or CD player so that you can listen to the files any time of the day or night, regardless of your location. This is quite a useful feature because it allows extremely busy people to keep in step with the program without having to sacrifice time at work and/or with their family.
In most cases, audio immersion works great in the process of language acquisition because the brain tends to store at least 90% of the information even without much effort from the individual. This works great for those who commute to and from work (and gets stuck in traffic a lot), as well as stay-at-home moms and dads who want to become multi-lingual.
Multi-Level Language Learning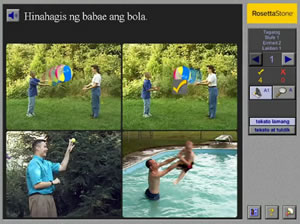 The authors of Rosetta Stone Tagalog are very much aware of the stages of learning when it comes to language acquisition, which is why they decided to design a multi-level program. Rosetta Tagalog consists of 3 different levels, each of which have a specific focus and separate goals that need to be attained at the end of the lessons.
Level One deals mostly with the introduction to the language, which includes an enumeration of its unique characteristics. In addition, users also get access to lessons that focus mainly on conversational skills, particularly the mastery of certain words and phrases that are commonly used in daily conversations.
Level Two, on the other hand, focuses more on lessons regarding tenses, how to tell time, letter writing, emotions, and specific Filipino celebrations. As part of the language acquisition process, it is important to understand how Filipinos act in a social setting, and which occasions they celebrate as well as their significance (cultural and/or religious).
Level Three is all about mastering the language and being able to converse properly using the right verb forms, nouns, and tenses.
Drawbacks
No Translations Provided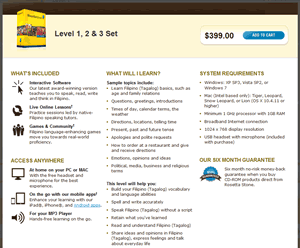 Since total immersion is the code Rosetta Stone lives by, this program does not provide any English translations for any of the lessons. While this is ideal for children who have yet to develop strong language skills, it does not help adults who have been speaking a different language all their lives.
Some Rosetta Tagalog users have mentioned that while the lessons are quite easy to follow, they find it hard to track their progress objectively. This can be a problem for those who need to learn Tagalog for purposes of doing business or migrating to the Philippines. As a result, many Rosetta users end up taking refresher courses or another Tagalog language course in order to achieve fluency and mastery.
In order to reduce the effects of such disadvantage, Rosetta Tagalog users need to at least have someone with whom they can practice, preferably someone who speakers the language well and understand its intricacies.
Cost is Not Budget Friendly
All three levels are just under the $400 mark ($399 to be exact), which is quite steep considering it lacks some very important features that one can expect from a great language software. The cheaper alternative is their 12 month full online access, which can be bought at $299, but it only helps those who are willing to spend a lot of time on the internet.
Verdict and Recommendation
Rosetta Stone Tagalog is good enough for those who are looking to learn Tagalog, but are not expecting to become fluent right away. It is a decent choice for tourists who are considering traveling to the Philippines on vacation and would want to be able to communicate with the locals in the most basic way. Truthfully, there are a couple of programs that are so much better than this one, but it is not a complete waste of money either.
It is a decent choice for tourists who are considering traveling to the Philippines on vacation and would want to be able to communicate with the locals in the most basic way. Truthfully, there are a couple of programs that are so much better than this one, but it is not a complete waste of money either.