With over 6,700 recognized languages in the world today, linguist enthusiasts would definitely have a lot of things to discover and explore for many years to come. However, for those who only want to learn a number of important languages, German would most definitely make the shortlist.
Needless to say, the German language is one of the hardest to learn due to its complicated pronunciation as well as the sentence unique sentence structure used in German grammar. In any case, it is a language that anyone can learn as long as they have the right tools at their disposal.
Rocket German is one of the most preferred language-training program today, as it provides comprehensive tools as well as the right motivation that allows people to reach their goal of becoming fluent. Below is a comprehensive review of this language software, including a close examination of the tools and features included in the Rocket German package.
What is the RocketLanguage German Program?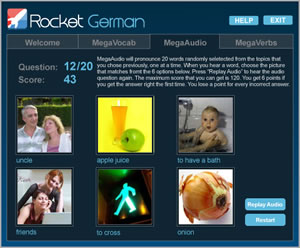 This Rocket language package is a well-constructed and comprehensive program that teaches German the way it was meant to be spoken. This program consists of audio as well as text based lessons that provide flexibility in learning, without sacrificing fluency and mastery of the language.
Main Benefits
10 Intense Vocabulary Sessions
Often referred to as the ultimate German survival guide, the 10 VOcab sessions discuss high practical subjects including Clothing, City Life, Food, Numbers, and The Body. All these sessions are intended to provide users with practical knowledge of the German way of life, which would come in handy if they decide to travel in Germany or interact with Native German speakers.
As many modern linguist experts would tell you, it is very important to understand the culture behind the language. Thus, RocketLanguages provides for these exercises in order to ensure that members are equipped in carrying on conversations in the context of German daily living.
31 Interactive Audio Lessons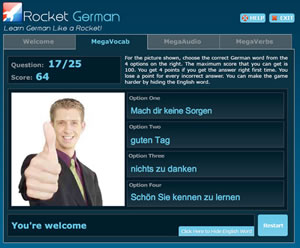 Users of Rocket Premium German will have access to 31 audio-based lessons that cover everything you need to know about the language, its peculiarities, and how to become a native sounding speaker. At 20 minutes each, the audio lessons come to a total of over 11 hours of pure information that you can listen to repeatedly.
The goal of creator of this program, Paul Weber, is to allow people the opportunity of going back to lessons they are having a hard time comprehending. While the audio lessons have been streamlined, some people just need to repeatedly listen to some sessions in order to achieve the level of fluency their desire.
31 Language and Culture Lessons
As in the case of other European languages, German has a very rich history that is worth exploring by anyone who wishes to become a confident speaker of the language. The culture lessons touch mainly on the origins of the German language, its evolution, and how it is related to other European (and Slavic) languages.
Whether you are student, an entrepreneur, or a traveller, this feature is something worth looking forward to as it educates people beyond words. This way, you can better understand the German way of life, and therefore be able to interact well with Germans and German speaking individuals.
The lessons are text based as well as illustrated so it is easier to imagine how things are in Germany and what things you can expect if/when you decide to visit.
Fun MegaVocab and Other Interactive Games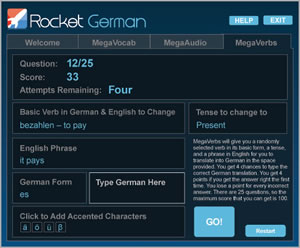 Learning is definitely fun with Rocket German, especially with this interactive feature. MegaVocab games are designed to not only entertain users, but also to make them remember German words and phrases better. Many studies over the years have shown that students learn better and faster when they are having fun, as opposed to being bombarded with tons of information.
The purpose of employing games such as these is to make sure that Rocket members will not get bored, or suddenly decide to quit the program due to the tediousness of the learning process.
Other game interfaces include MegaAudio software and MegaVerbs. These two focus more on proper word usage and understanding tenses of German verbs. As you probably know, one of the hardest aspects of language acquisition is understanding word meanings and how they are used in sentences.
These games introduce a very complicated language aspect in a manner that does not scare off or bore people, which is an effective learning technique.
Virtual German Teacher 24/7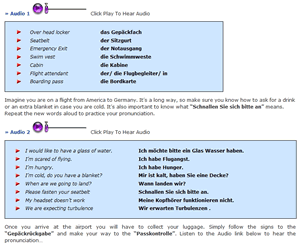 This is perhaps the most impressive feature of Rocket German, considering very few language programs actually provide for such innovation. Having access 24/7 access to a virtual teacher will infinitely increase your chances of becoming fluent in half the time.
Users have the choice of sending a personal message to the "virtual mentor", or post queries on the Learn German Forum, where language teachers as well as trainees share ideas and ask/answer all sorts of questions.
This is even better than hiring a German tutor to come to your home, because you get to reach language experts for free anytime.
Lifetime Membership
Upon purchasing the Premium German Rocket program, the customer becomes a lifetime member of RocketLanguages. This comes with a number of benefits, including unlimited and free access to any and all future upgrades. You can access new lessons on German language as they become available for members of the Rocket program. The Lifetime membership policy definitely gives customers excellent value for their money.
Excellent Free Trial
Potential customers never have to take a guess as to whether RocketLanguage German is the best choice for them. With the Free Trial offered, you can see all the essential features, of which you will gain access upon purchasing the software. More than 90% of the people who sign up for the free trial eventually buy the program, which indicates very positive feedback.
Drawbacks
German is an intense language and it can be excruciating to learn for some people. However, since you have all the right resources at your disposal, there is no reason why you will not achieve fluency.

No matter what you reasons are for wanting to learn German, it is a wise move to buy Rocket German today and start one of the best journeys you can ever take with words.