Italian, much like a few other European languages, is considered a romance language that is a result of precipitated culture and a collection of human emotions. People who want to learn how to speak Italian are almost always motivated by their travel plans, chosen scholastic path, and entrepreneurial endeavors. However, regardless of the reasons for wanting to acquire this fantastic language, it all boils down to choosing the right training course that would afford mastery and fluency.
Rocket Languages is a collection of different language training courses, and has been one of the foremost programs in its field. If you are interested in learning and becoming fluent in this language, Rocket Italian should definitely be on your short list. Below is a comprehensive review of the Italian Rocket Language program, which delves on the benefits, features, and drawbacks of the product.
Before making any decisions, it is rather prudent to be sure of what you can expect from a product, especially one that serves a very important purpose, as in the case of any and all language learning program.
What is Rocket Italian All About?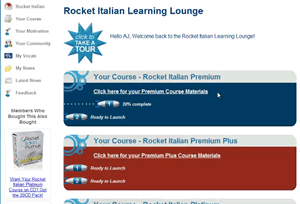 Much like its mates in the Rocket Languages product line, Rocket Italian is a well-constructed training program that consists of various lessons and tools. Such program is created not only to allow people to learn Italian, but also to train them in speaking like an Italian native speaker.
Main Benefits and Features
Speedy Language Acquisition Rate
The general assumption when it comes to learning a foreign language is that it takes a long time. This is not the case with RocketLanguages Italian since the program uses unconventional methods that cut learning time in half. Being time efficient in acquiring a new language is at par for the course for those who aim to become multi-lingual within a short period.
This benefit is enjoyed by all members, including those who have never been exposed to the Italian language.
Immersive Learning Style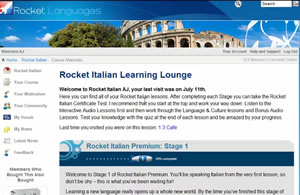 While not everyone can take a trip to Italy and experience the culture or language first hand, practically anyone can use the Rocket Italian program to help them not only understand but also experience what the Italian language is all about. Rocket provides 31 lessons that educate users on the Italian language, its origins, development, and changes it underwent over the centuries.
Authors of this language program has determined the importance of providing a learning experience that is not only about imparting information, but instilling values as well. Imbibing the Italian culture through the language is as close as one can get to living in Italy.
This method is also essential in making sure that non-native speakers can keep in step with native Italian speakers when conversing with them.
Situational lessons provided in this package are quite remarkable, as they teach users how to best approach practical situations, i.e. ordering coffee at an Italian coffee shop, making hotel reservations over the phone, ordering food and wine at a restaurant, and many others.
Comprehensive Audio Lessons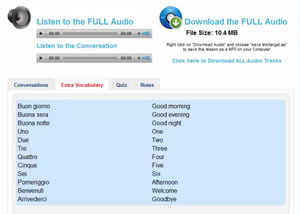 With 33 audio courses that you can listen to repeatedly, fluency is guaranteed. Rocket Italian was intended to be a predominantly audio-based program due to the unique nature of the language. Italian pronunciation is precise and sharp, which necessitates listening to words, phrases, and sentences over and over again.
These audio lessons prompt users to speak Italian aloud so they can hear themselves, and compare their speech with that of the hosts (people on the recorded tapes).
In addition, since these lessons can be downloaded, users can choose where and when they want to listen to the audio. Most people prefer the privacy of their own home for studying, especially for those who are not yet comfortable speaking the language in front, or in the presence, of other people.
Voice Comparison Technology
This innovation is installed specifically to improve the level of fluency of those who use the Rocket Italian. Users can record their own voice while speaking Italian words and/or phrases, and then compare it with the speech patterns of the native Italian speaker.
This particular feature has received a lot of praises from RocketLanguages users, as it allows them to objectively gauge their mastery of Italian.
My Vocabulary Builder

Learning several Italian words is not as good as knowing how each of them is used in complete sentences. The Italian language consists of many similar words that have slightly different meanings, and it is imperative to learn which ones are most appropriate to use in certain instances.
This tool will come in handy once you start learning how to converse in complete Italian sentences, with due respect to correct word usage. It would also help you expand your Italian vocabulary, which is a necessary element in becoming a native sounding speaker.
Fun Filled Games
Learning a new language can get stale and laborious, which is why RocketLanguages Italian has incorporated games into the program. Users can have fun while still being able to absorb vital information about proper pronunciation, correct word usage, and how to carry on a good conversation.
Useful Free Trial
While most language learning programs only offer free trials to reel in prospective buyers, RocketLanguages actually provide substantial lessons that show exactly what one can expect from the product. The free trial includes 3 hours of audio lessons, test run of the voice comparison feature, and access to My Vocab Builder.
Drawbacks
Italian in itself is a difficult language to learn, especially for non-Europeans. A bit of confusion can be expected in the beginning, but progress is nevertheless guaranteed. Since Rocket makes any language easy to learn, you can only expect a bit of jitters when taking the first few lessons.

The simple fact that consumers should know is that Rocket Languages Italian works. This program does not only educate people about the Italian language, but it also allows them to have a glimpse at the Italian way of life. At its price, it is a huge bargain. Apart from being a wise purchase, Rocket Italian is an experience that you should not miss, if you are looking to become more cultured and knowledgeable.