Rosetta Stone's German learning program is often touted as one of the best for learning German (or any other language), but is it really as good as it seems? The short version is that that program does work, but the high price is a big turn off. As it's always the case with learning something new, you'll definitely need to put some work into learning the language, but you will have a good grasp by the time you are finished with this course. However, like any other product, this one does have its faults. If you're interested in reading the full review, then continue on to find out more.
Length of the Program
Rosetta Stone German is separated into five different levels, and each level teaches you a different area of the German language. While the specifics about the levels will be covered below, you might be wondering how long this program takes to complete.
It largely matters on how quickly you can learn and absorb the language, but each level should take you between 25 to 50 hours to complete. The later levels are much longer because there is more for you to learn. Remember: this is not a race. Rosetta Stone is an effective product, but it won't work at all if you rush through the modules. At best, you'll learn to parrot small segments of the German language.
Considering that you will probably work on the lessons for one or more hours a day, you can expect the entire program to last about four months or less.
How the Program Works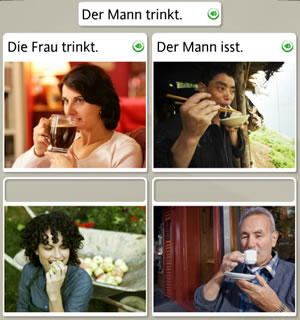 The reason this course is more effective than classes in a short amount of time is because Rosetta Stone teaches you sentence structure and common situations. Most classes teach you a language from beginning to end. You'll learn the common words, then modifiers and lastly grammar. This is because the class is teaching you the language at a moderate pace, and with only the language in mind.
Rosetta Stone teaches you a language based on mechanics, common situations and sentence structure. For example, you will learn about the basic elements of the language, but only enough to start forming sentences. Instead of focusing solely on grammar, Rosetta Stone teaches you to recognize common sentences and how to respond to them.
For example, whereas a class will teach you a common greeting, this course will focus on a common scenario, like friendly conversations, traveling, speaking about the past or dining. The scenarios are made to flow into each other so that you gain an overall comprehension of the language by the time the modules are complete.
You will also be presented with a simulated conversion at the end of each unit. Unlike classes where you start with short conversations lasting just a few seconds, Rosetta Stone gives you a full 10-minute conversation so that you will really learn how to speak the language.
Suitable Level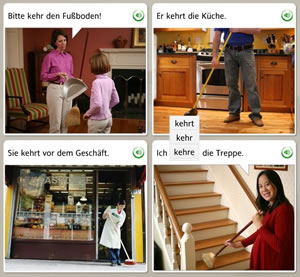 Is Rosetta Stone German just meant for beginners, or can more advanced German speakers learn something from this? It's a good choice for people who just started to learn German, but it is also not bad for intermediate students. However, advanced students can also use it as a supplementary program, and it will help you better learn the mechanics of conversations and actually applying the language.
If this is your first time being exposed to German or if you've had a few classes, you can definitely learn a few things from this program. Even if you are near fluent, Rosetta Stone will help keep your knowledge of German as sharp as a tack.
Entertainment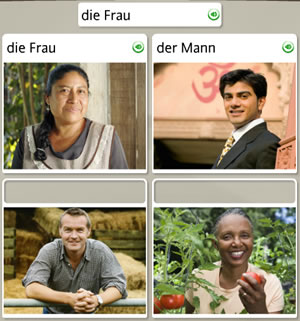 Before there were interactive courses everyone was listening to those tapes and audio files of languages. An instructor would say a sentence and you would repeat it. The novelty would soon wear off, and you would find yourself unconsciously muttering sentences without really absorbing anything.
That's because these programs are boring. The human mind naturally shuts out things that are boring. So, does Rosetta Stone German suffer the same fate?
It certainly wouldn't be awarded as a great source of entertainment, but the modules and units will keep you challenged, and they can be fun. Unlike the above example, you will actually feel like you are learning how to fluently speak and apply German. If learning a language appeals to you at all, then Rosetta Stone will be fun enough to keep you entertained the whole way through.
Levels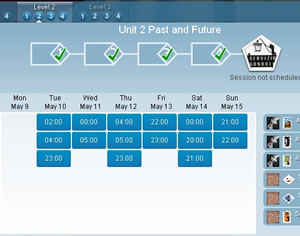 There are five levels to Rosetta Stone German. Each one focuses on different areas of the German language. The first level will introduce you to the German language, and you will learn about greetings, introducing yourself and others and how to go shopping or place orders.
Level two focuses on phone calls, navigating around a German city, and talking about travel arrangements like flights, hotels and reservations. Level three focuses on household routines, personal health and different life events like marriage, getting a new house and birthdays. The fourth level teaches you about business dealings, speaking with maintenance businesses about repairs and describing yourself and others. The last level shows you how to describe your work, school topics and different events in pop culture and art.
If you just want a basic grasp of the German language, then you should get levels one through three. Four and five are great for a more fluent approach to German, but they are not required if you are in a hurry to learn this language.
Cons
No program is perfect, and Rosetta Stone does have a few cons that you should be aware of. This program is more expensive than other German programs, but you do get more units and the method behind Rosetta Stone tends to work better.
The more salient con is that Rosetta Stone doesn't focus much on grammar. This can make discussions outside of the common scenarios a little tedious at first, but you should be able to pick up on the German subtleties by paying attention to sentence mechanics.
Conclusion
So, does this software deliver on its promise to teach you the German language? It is definitively a powerful program that gives you great experience with common situations, and you can learn a lot through the modules. While it is a little weak in terms of grammar, you should find that what you do learn will translate very well into real conversations and scenarios. If you are looking to learn German because you want to apply it and don't mind the price ($499 for all levels), then this program is a good choice.

While it is a little weak in terms of grammar, you should find that what you do learn will translate very well into real conversations and scenarios. If you are looking to learn German because you want to apply it and do not care about a high price point, then this program is perfect for your needs.