French is regarded as one of the most romantic languages in the world, and rightfully so. Scholars and regular folks alike have a great deal of interest in this language, and many of them are keen on learning it for purposes of travel, business, and personal growth. If you have the need to learn how to speak French, the smartest move is to utilize language software.
Pimsleur Languages is one of the most highly regarded programs online and Pimsleur French is among its most popular products. Those who are looking to educate themselves about the French language and become a fluent speaker, Pimsleur is definitely a sensible choice. However, before going out to buy this program, it only makes sense to know more about what the software can offer and whether it suits your specific needs.
What is Pimsleur French?
This program is created to facilitate the process of learning French for those who prefer to learn by themselves as opposed to sitting in a traditional classroom setting. It is a purely audio-based learning program that provides vocabulary tools that teach French from the most basic up to the professional level.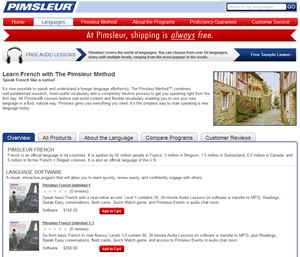 Main Benefits
Well Structured Lessons
Since this program is made up of purely audio lessons, it helps that each level is well defined, making it easy for users to follow the progression. The entire Pimsleur French program is divided into 8 different courses, with each one accomplishing a particular goal. You will never get lost when using this program because everything is arranged according to the proficiency level desired for learners.
French-Culture Sensitive
More than half of Pimsleur French users are motivated to learn the language because they want to travel to France. With this in mind, creators of this program made it a point to include lessons that revolve around what the French people eat, how they dine, ask for directions, and many others. The software is specifically designed to ensure that tourists will know the proper way of interacting with French locals when they finally get to France.
Some of the culture-centric lessons include practical conversation starters such as ordering French coffee or perusing a French menu at a restaurant. Courses also include lessons on how to greet French locals before starting up a conversation. It is practically a French survival guide for those who are intent on blending in as well as possible.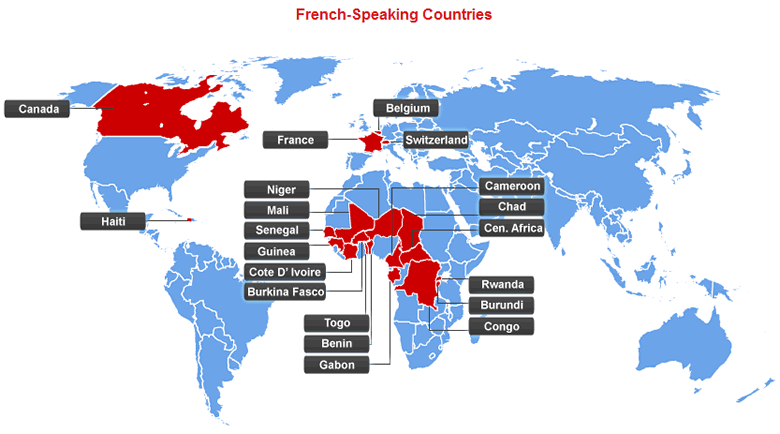 Time Efficient
Not everyone can afford to spend many hours each day trying to learn a new language, especially in the case of fully employed individuals. Pimsleur Languages French is one of the most time efficient programs you can find in the market today, as it guarantees results with only 30 minutes everyday.
The lessons have been streamlined in order to maximize learning and retention, which means you need not spend hours slaving over the courses in order to become fluent. This benefit is the result of using the Pimsleur Method, which involves the strategic repetition of certain words and phrases for purposes of better recall.
As you will find in most customer testimonials online, 10 days of using Pimsleur yield a great deal of result that you can start speaking passable French after such time.
Flexible Learning Schedule
Unlike enrolling in a French class at a university, using Pimsleur French affords every user the flexibility in schedule. Since all the audio lessons are available in CDs, you can easily listen to the lessons whenever you have free time. Since the lessons are not strictly online based, Pimsleur users can opt to listen to the courses via their mp3 player or any other portable audio playing device.
Regardless of where you are or what you are doing, you can always catch up with French lessons and practice the most important words and phrases you need to master in order to achieve fluency.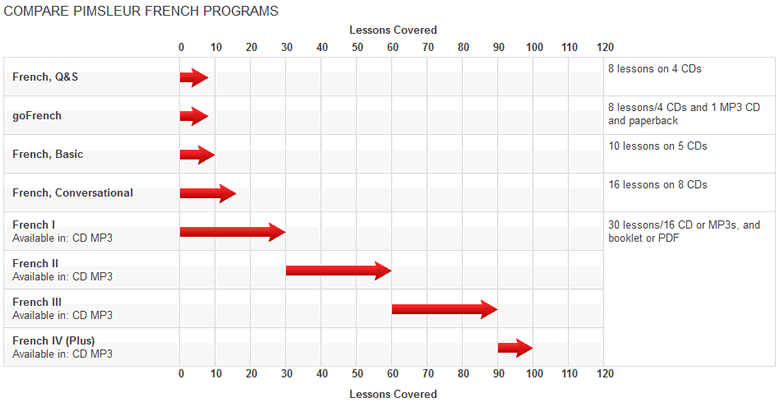 Designed for Beginners
French is indeed a language that is difficult to learn, which is why language programs such as Pimsleur French are designed to be as novice friendly as possible. Even people who have not heard or uttered a single French word will find this program easy to use and understand. However, this should be taken to mean that French Pimsleur could only provide basic French lessons, because it is also one of the most comprehensive programs there is today.
Introductory Program Available
Afraid to spend too much money too soon? This is not at all a problem with Pimsleur Languages French because it is also offered at an introductory level. The into package, which costs less than $50 focuses mainly on conversational French, as well as other essential information that beginners such as yourself need to know before proceeding to more comprehensive lessons. Not only is the introductory course budget friendly, but it also provides an accurate preview of what you can expect if you decide to purchase the complete course. Prospective Pimsleur users can save some money and still be able to learn valuable information about the French language.
Native French Speaker Level
Perhaps the most important benefit that Pimsleur French can provide is its ability to turn novices into native sounding speakers. Not only is this a great advantage when visiting a French speaking countries, but it also guarantees a higher level of confidence when speaking the language. A lot of non-French speakers are petrified to even try due to the fear of not sounding good, especially when interacting with native speakers. Pimsleur ensures that you not only learn to speak French, but also learn to speak the language as if it is your mother tongue.
Drawbacks
Price seems to be the only cause for concern for those who are looking to purchase this program. The benefits are certainly there but you will have to be willing to spend good money to access the entire program (all 8 courses).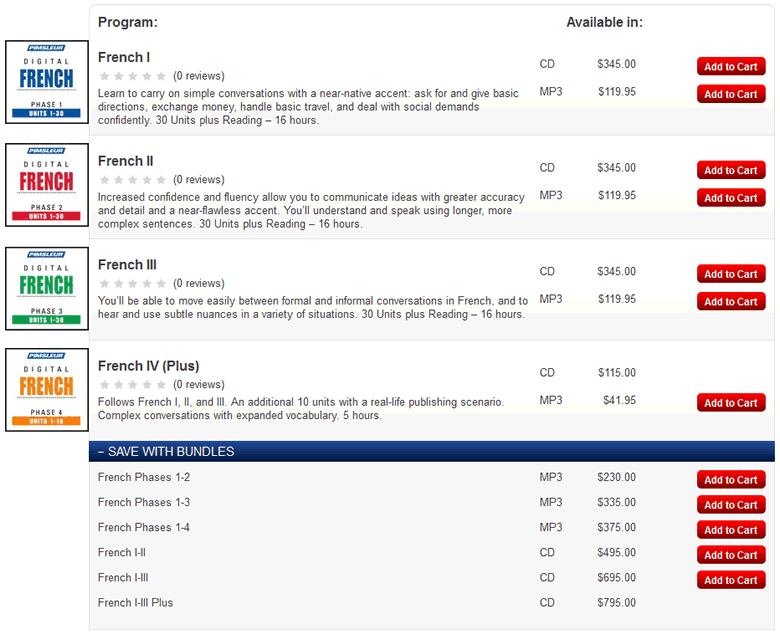 Verdict and Recommendation
The most important thing to know about Pimsleur French is that it is a great program that provides a lot of useful information. While you need to spend a good amount of money, it is worth every penny because the program delivers on its promises, and more. Buying Pimsleur French not only a wise purchase, but also a smart investment for your future.
The most important thing to know about Pimsleur French is that it is a great program that provides a lot of useful information. While you need to spend a good amount of money, it is worth every penny because the program delivers on its promises, and more.