Being multilingual presents a number of advantages especially for those who prefer being on top of their competition, whether it is in business or in any other aspect of life. When it comes to acquiring a second language, especially one that is as hard to learn as French, the most important step is finding the right training program that can provide excellent instruction as well as a comprehensive list of language learning tools.
Rosetta Stone French is among the most popular language learning programs online today, and it has made an impression on a lot of people over the years. To find out whether this program is just what you need to learn French, it is imperative to learn as much as you can about its process and what it can really provide as far as effective language acquisition is concerned.
What is Rosetta Stone French?
This program is an online software intended for people who are eager to learn French in a number of different levels, using total immersive techniques. RosettaStone French is intended to be used by beginners as well as those who have a prior knowledge of the French language.
Main Benefits
Comprehensive Learning Course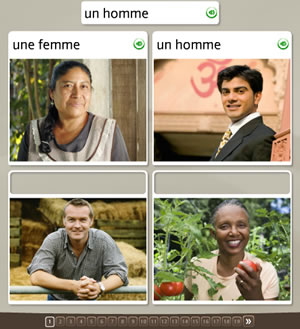 RosettaStone French consists of five different levels, each of which has its own set of lessons that are designed to ensure mastery and fluency. While other programs have just one or two levels, the authors of Rosetta Languages are convinced that multi level learning is the best way to approach the process of language acquisition.
This software is mostly made up of audio lessons that are purely in French. Since the program insists on complete immersion, users are forced to learn French as if they were children who have yet to learn a language, thereby making it their native tongue.
24/7 Online Access
The Rosetta French language program is perfect for anyone who lives in the information age. As with most other language training programs offered today, Rosetta French lessons can be accessed through the internet. This provides flexibility to those who travel or are otherwise unable to stick to a daily study schedule.
Users of this software can catch up on the lessons anytime they want without any need for any hardware installation. With this type of learning arrangement, there should be no reason for anyone not to achieve a satisfactory level of French mastery.
Interactive Lessons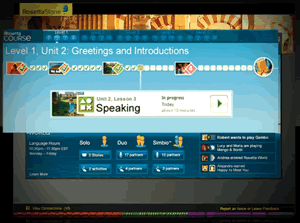 Linguistic experts have long ago concluded that the most effective way of learning a language is by using methods that not only inform but also entertain. The interactive lessons promote not only fluency but excellent recall as well. Since the French vocabulary is quite extensive, it is necessary to know and remember as many words as possible in order to become proficient in speaking the language.
Portable Lessons Available
A lot of people are raring to learn a new language but are unable to do so due to their busy schedule. Rosetta Stone French offers a very good solution in the form of hands free lessons, which you can listen to using an mp3 player or any audio playing device.
This makes it possible for busy individuals to maximize their free time to learn words and perfect their pronunciation.
Drawbacks
No Translations Available
Many critics as well as customers agree that the lack of English translations is a significant drawback to this otherwise competent language software. Since most people who choose to learn a foreign language are in their teens or much older, the complete immersion technique does not work quite as well as it was intended.
The lack of translations often causes confusion, especially in the case of novices who have never been introduced to the French language. In addition, this difficulty often leads to boredom and eventual abandonment of the program.
Lack of Culture Lessons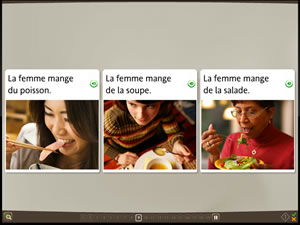 While RosettaStone French provides a number of practical lessons, i.e. common sentences used in everyday French vernacular, it does not have comprehensive culture lessons that can help users with smooth assimilation. Those who are looking to visit and/or move to France will be greatly disappointed due to the impersonal nature of all the courses.
A lot of people looking to learn French also intend to know more about the culture as well as the way of life of people living in France. This step is very important for those who are hoping to not only speak French but also be able to connect with French natives.
Not Ideal for Novices
While the program is marketed to beginners, it is not an ideal program for those who do not have a basic understanding of French. RosettaStone French only seems to work for those who can speak French and are simply looking to become more proficient.
Beginners will find it extremely hard to cope with the lessons, especially since there are no English translations provided.
No Learning Forums for Users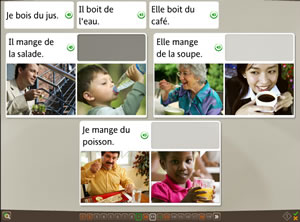 Unlike most other language learning programs, RosettaStone French does not include access to any learners' forum. Many users agree that they are more comfortable with a program that allows members to interact with one another and share their learning experiences to a multitude of language learners.
Being able to connect with other people who are trying to learn the same language has proven effective in ensuring mastery and boosting self-confidence. In addition, it allows users to test their language skills by conversing in French.
Extremely Overpriced
Perhaps the most common complaint about the Rosetta French software is that it costs too much money without actually providing much value. Should you decide to purchase all five levels, you are looking at spending at least $379. Considering the deficiencies of this program, it is ill advised to invest too much money especially if you are a beginner.
Verdict and Recommendation
Rosetta Stone French is mostly recommended for people who are only looking to polish their French. Without any prior knowledge of the language, one will find this software just a tad ineffective. Mastery and fluency are the two most important goals when it comes to learning a foreign language and this is what Rosetta can deliver, provided you have a basic background to start with.

Without any prior knowledge of the language, one will find this software just a tad ineffective. Mastery and fluency are the two most important goals when it comes to learning a foreign language and this is what Rosetta can deliver, provided you have a basic background to start with.