As advancements in Science and Technology increase by the minute, the world becomes even smaller for people, especially those that are intellectually and professionally competitive. These changes also prompt the need for learning new languages that can help furthering people's careers as well as their worldview.
Rosetta Stone Arabic is an online course offered for people interested in learning a challenging but incredibly rich language. This tool provides a great deal of benefits to professionals, students, and even laymen who make it their mission to enrich their minds by learning various world languages.
The question now is if Rosetta Stone Arabic is even worth buying. Since there are so many products in the market promising all sorts of things, it makes sense to know what the pros and cons one can expect from the Rosetta Stone Arabic online course.
Main Benefits
Easy Access for Users
When you choose to learn Arabic with Rosetta Stone, you choose to have access to convenience and ease 24/7. People who choose to purchase this program are mostly pleased with the fact that they can listen to Arabic lessons when they are at home, at work, on the bus, or stuck in traffic at the end of a workday. The genius behind Arabic Rosetta as well as other online courses offered under this brand is that the software is created to accommodate busy people who just do not want to sit in a classroom a few hours each week.
Audio Companion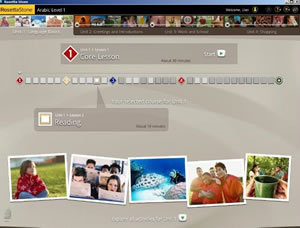 Several studies have shown that listening is the most effective way of acquiring a foreign language, especially for adults. With this in mind, creators of the Rosetta Stone Arabic made sure that the software is compatible with the latest audio gadgets today such as mp3 players, iPhone, and iPod. This is a huge help for people who are not comfortable with conventional learning methods, like those that involve teacher-student interaction. Being mobile is no longer an issue because you can simply upload the lessons onto any audio device and listen at your convenience.
Voice Recognition Technology
This proprietary feature has been recently added in order to increase the effectiveness of the lessons provided in the program. It is rather hard for language students to keep track of their progress when they have no access to interactive practice, which can seriously hamper their advancement. Arabic Rosetta Stone, however, appropriately provides the voice recognition feature so users can compare their speech patterns to that of the Arabic speaker.
Several Sample Topics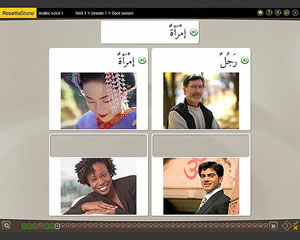 One of the disappointments you can expect to encounter with most online language programs is their lack of focus on everyday scenarios, which involve casual conversations. In sharp contrast, Rosetta Stone Arabic provides topics about daily Arabic discourses that revolve around greetings, calendar terms, ordering off the menu of an Arab restaurant, verb tenses, apologies, polite pleasantries, Islamic greetings, and many others. These things are very important to learn since they would be the first things that non-native speakers will need to utter when meeting or interacting with Arab nationals or Arabic speakers. Rosetta Stone Arabic is culturally sensitive, and it recognizes the fact that this language has religious roots. You would encounter a lot of Islam related phrases and greetings, which will come in handy when conversing with Islamic Arabs.
Total Immersive Learning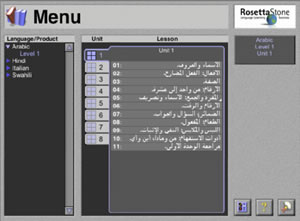 The experience you can expect when using Arabic Rosetta Stone is akin to being in a strange country for the very first time without any prior knowledge of how people converse with each other. Small children learn this way and many linguists believe that it is the most effective way to acquire a foreign language. Since there are no translations provided in any of the lessons, you will be forced to listen intently and imbibe all the subtleties of the language. Arabic is distinctive in its intonation, pronunciation, and voice stress so learning it would require focus and undivided attention. The real upside of this learning technique is that by the time you learn Arabic, you will not only be fluent but you will also sound like a natural speaker, which is always a plus.
Drawbacks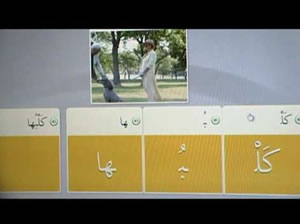 One Dimensional Learning
Many are disappointed with Arabic Rosetta Stone because it does not seem to have as many features as other language programs in the market. Some might say that this course is only good for self-starters and not those who need systematic guidance through the course of the learning process.
No Translations Available
This is the biggest downside of this program because most people prefer to learn by translation as opposed to complete immersion. The technique used by Rosetta is similar to how kids learn their very first language, which is through imbibing anything and everything they hear. This poses a great challenge to users who have not had any experience listening to or speaking Arabic, which can lead them to lose confidence or interest.
Cost
At $399, this language course is considered overpriced by many consumers as well as language experts. Considering the absence of several key features, the cost of this product cannot be truly justified. There are other programs that provide more useful features, selling for a lot less so many potential buyers are likely to switch.
Need for Supplementary Materials
The fact that Rosetta Stone Arabic lacks important lessons and features, purchasing it could mean spending more money on other reading materials just to keep up with your timetable. If you are in a great hurry to learn Arabic, Rosetta might not be the best choice for a language tool. In fact, some users are saying that they would have been better off buying Arabic tapes along with Arab to English dictionaries and grammar books.
Verdict and Recommendation
Clearly, this product is meant for people who are not dealing with a truncated timetable for learning Arabic. If your intention were to become familiar with few Arabic words and phrases, then Rosetta Stone Arabic would be a good choice. However, if you want to become proficient in the language in a matter of 3-6 months, you are better off with other programs such as Rocket or Pimsleur.
This product is meant for people who are not dealing with a truncated timetable for learning Arabic. If your intention were to become familiar with few Arabic words and phrases, then Rosetta Stone's Arabic course is a good choice. However, if you want to become proficient in the language in a matter of 3-6 months, you are better off with other programs.