The significant rise of the Asian economic market has paved the way for talented and ambitious individuals who like to take on the Far East in their quest for success. Whether you are a student who is bent on becoming multi-lingual or a professional who wants to become globally relevant and competitive, learning Japanese is an excellent idea.
It is no secret that Japan has been and remains an economic titan not only in Asia but the world at large, which makes its language a must-learn for individuals, whether the a they use it for business or leisure.
Many are immediately intimidated due to the complexity of the Japanese language, particularly the characters used in its written form. Regardless of your age, gender, and native language, learning Japanese can prove to be challenging as well as fun as long as you choose the right program.
The Rosetta Stone Japanese is one of the programs offered in the Rosetta Languages product line, and it has received mixed reviews from critics as well as customers over the years. To find out whether this program is what you need, it is highly recommended that you get to know all the facts about RosettaStone Japanese.
What is the Rosetta Stone Japanese Program?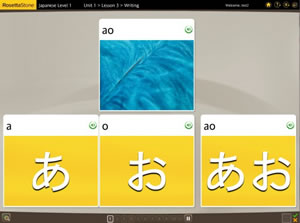 This software is offered to people who are interested in learning Japanese and becoming a fluent speaker of the language. This predominantly online-based program includes tools and materials for beginners as well as those who have a background in Japanese.
Main Benefits
Natural Learning Techniques
For the most part, RosettaStone programs use the "complete immersion" learning strategy, which teaches a language in a such a manner that do not involve translations in English or any other language for that matter. This learning technique replicates the same experience that babies or young children get as they grow up in a purely Japanese-speaking environment.
The theory is that since there are no available translations, users will be forced to imbibe the information in its purest form. The person in training is treated as if he/she is a child who has yet to learn to speak in any language.
High Retention Level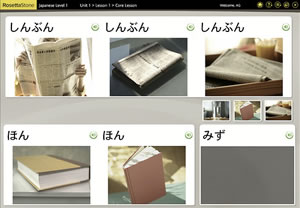 Many people who undergo Japanese language training often forget about 75% of what they learn. With the Japanese program offered by Rosetta Stone, people are more likely to retain most, if not all, of what they learned about the language.
Since retention is one of the most important components of effective learning, many experts are convinced that RosettaStone Japanese is one of the best tools available in the market today.
Numerous users of this software conveyed that since they did not have access to translated scripts or texts, they were more inclined to formulate thoughts in Japanese as if they were born and raised in country. This is simply a phenomenal advantage for those who do not only wish to learn Japanese, but also treat it as their native tongue.
Multi Level Learning
While many are interested in becoming bi-lingual or multi-lingual, not everyone has the time or the resources to take such an extensive course. The Japanese language software offered by Rosetta allows people to learn at their desired pace.
This provides incredible flexibility to those who hold full time jobs and/or those who are busy with household duties, as in the case of stay-at-home mothers/fathers.
Level 1 is basically the introduction to Japanese, its origins, and unique intricacies as a language. People can choose to start with level 1 and see whether they are comfortable with the learning process, and if the methods work well for them.
Audio-Visual Acclimation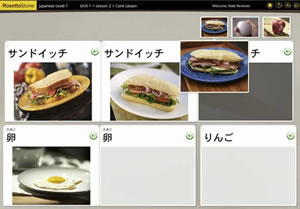 This learning technique is used mainly for purposes of training the brain to recognize sounds and link them to the appropriate image. Users of RosettaStone Japanese can expect fluency and mastery because their brains can immediately recognize words and their meaning within a certain context.
CD ROM Lessons Available
Those who do not wish to spend too much time online may opt to purchase CD ROM lessons. This would allow them to study even without using the internet or a PC, which is ideal for those who travel often and prefer to use their free time to master the language.
Disadvantages
Ineffective Lessons for Novices
People who have never been exposed to the Japanese language can expect to find themselves lost in the lessons. While the absence of English translation is effective when it comes to promoting fluency, it proves to be a major hindrance for those who haven't the slightest idea how speak Japanese, let alone formulate complete thoughts the way native speakers do.
A large number of Rosetta Japanese users have admitted to giving up on the program due to the lack of tools that can guide beginners. Many language experts deem this program useless for beginners, and should only be used by those who have an existing working knowledge of the Japanese language.
Virtually No Fun Involved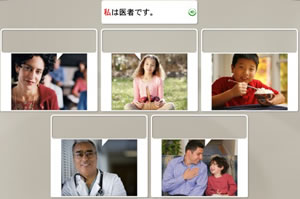 Learning a new language can be challenging, not to mention tedious. This is why most online-based programs these days include games and other interactive features that are not only informative but also entertaining. RosettaStone Japanese does not have any of these features, which increases the likelihood of users getting bored with the program.
This program is well intended for those who can focus their efforts regardless of how monotonous the lessons might be. In effect, it is ill advised for young people, especially kids and teenagers to learn Japanese with Rosetta Stone.
Costly and Minimal Value for Your Money
If you plan to stick with the program and buy all three levels, you should be prepared to spend about $370 to $400. In addition, you cannot expect to get much value for your cash because the program works best for people with a significant background in Japanese.
Many consumers seem to think they are better off finding other Japanese language programs that cater to beginners, rather than those who are only looking to polish their Japanese speaking skills.
Verdict and Recommendation
Upon closer examination, Rosetta Stone Japanese appears to be useful only to people who have prior knowledge of the Japanese language. This product makes for a very good refresher course, but certainly not for anyone who does not know anything about the Japanese language. In all, it is a product worth purchasing if you wish to become fluent in Japanese, provided you have a firm grasp of all the basics of this language.

This product makes for a very good refresher course, but certainly not for anyone who does not know anything about the Japanese language. In all, it is a product worth purchasing if you wish to become fluent in Japanese, got the time, and do not shy the costly investment.