Whether learning Hindi is a necessity because of family or work commitments or just a hobby, all prospective students of the language will be looking for a product that can teach them in a way that is beneficial and effective. Rosetta Stone is one of the most famous language software providers around but should you trust them to offer an advantageous Hindi course by reputation alone? This review will look at some of the pros and cons of using Rosetta Stone Hindi by asking the questions all consumers want answered.
Main Benefits
Does the package have an easy-to-follow structure?
Rather than adopting a one-size-fits all approach to their product, Rosetta Stone have split their Hindi course into different options depending on the level of the content and the needs of the user – for example level 1 covers the basics of the language and gets people started from the absolute beginning. Complete novices and unconfident students can purchase this level on its own, which provides them with up to 50 hours of content to get them more familiar with language, or they can buy packages with either the first two or all three levels. Customers also have the option of the traditional CD Rom package or the new, interactive "TOTALe Online" program.
Is the program designed with a certain style of learning in mind or are their plenty of options and methods?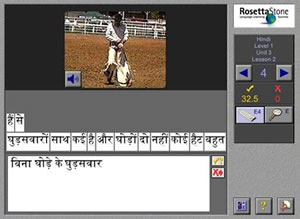 Not every student learns a language the same way so courses that focus on audio tapes or reading may be more useful to some users than others. One of the features about Rosetta stone Hindi that makes it so appealing is that it understands that speaking, writing, listening and reading are all required for a language course and they prefer to let students immerse themselves in all these aspects by providing methods for them all. Students can learn to read and write with ease across the different levels but can also have access to MP3s, speech recognition features and interactive games to make the subject more fun and comprehensive.
Does the course offer any support for people while they are learning or are they own their own?
The course is very loosely structured and prefers to encourage users to learn at their own pace rather than feel pressured into following a more regimented lesson plan. This can be appealing to many users because the activity remains more of a hobby than a task and they can plan their own studies around other commitments. Such a leisurely approach to the course may lead some prospective users to worry that they are on their own with no tutor but this is not the case, there is a native speaking tutor available for regular live conversations so you can practice and progress with the right supervision.
This well-balanced blend of supportive features and a freedom of learning is best experienced through the online community that has been created. Having a host of other students and Hindi speakers available to talk to at any time is ideal because not only is it convenient and accessible, it provides a relaxing way to practice different elements of the language with people in the same situation.
What other benefits are available with this product?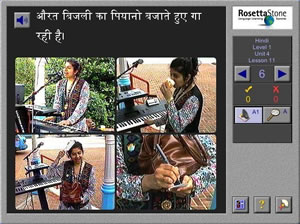 There are some additional advantages to using the Hindi version of Rosetta stone that as yet have not been mentioned. The "TOTALe Online" version and the CD Rom are compatible with both Macs and PC – increasing the accessibility for potential users – and the individual benefits do not end there. The online version can be used on smartphones and tablets so that the program can be taken with you whether you go. This means users have more freedom in their learning, such as fitting in a quick lesson in their lunch break, and once they are finished the information and progress is synced between devices. The CD Rom may be limited to two home computers but it does allow for up to five users meaning that instead of learning alone, buyers can learn as a couple or even a family.
Drawbacks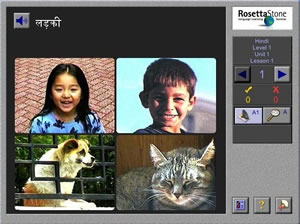 While there are plenty of positive aspects to this language program it is far from perfect and it may not appeal to everyone – despite the company's best attempts to provide something for all students. The first issue is the price, this may not be a big problem to everyone with the different price options available and the quality of the program but it is at the higher end of the scale. Another problem is the depth and breadth of the language that is covered; conversational Hindi for social and general use is great but a little limiting – especially for people trying to learn as part of their work or people with some prior experience. Finally there is the issue of the availability of features across the two options. Why are the audio MP3s only present on the CD Rom version when it would be so convenient to listen via a smartphone during a run or a commute?
Verdict and Recommendation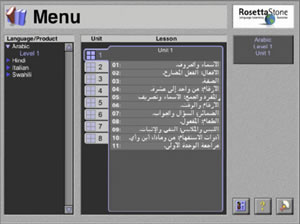 Having a choice in the type of product you purchase is an appealing prospect but the decision over which is the best form is really down to personal needs and situations. The online version is fast, accessible and provides more interactive features and support than the CD Rom but is perhaps best suited for one subscriber. The CD Rom on the other hand is ideal for families learning together and provides a greater choice of learning options, even if some of them are subject to a three month trial.
It is clear to see how users across the world can benefit from this product if they have no prior knowledge of the language. It may not be the cheapest program on the market and it may be lacking in certain areas but it does provide a great, educational experience for users no matter what learning style they choose to adopt with plenty of support on hand throughout the process. Whichever method you choose, learning Hindi with Rosetta Stone is set to be a rewarding experience for beginners everywhere. But is it the best software program currently available? Probably not.

It may not be the cheapest program on the market and it may be lacking in certain areas but it does provide a great, educational experience for users no matter what learning style they choose to adopt with plenty of support on hand throughout the process.