A great number of people are interested in learning French for various reasons. Many tourists who are targeting Europe for their grand vacation are keen on acquiring French as it is widely spoken in the continent, while some are concerned about not coming across as uneducated when they are walking the streets of Paris and exploring the wide expanse of the city.
For whatever reason you want to learn French, it is imperative to expect that the process is hard and extremely challenging. However, having the right language-training program would definitely make the learning process easier and more result driven.
Rocket French is among the most popular programs offered by Rocket Languages, and it has become one of the highly preferred Rocket products. If you are eager to learn French, as well as the culture behind the language, this is a program you should seriously consider.
What is the Rocket French Program?
This program is offered to individuals who are looking to learn the basics of French, as well as gain fluency on the language within a reasonable time frame. As with other Rocket courses, RocketFrench is made up of a series of courses and lessons that are designed to achieve mastery and come as close to a native sounding speaker as possible.
Main Benefits and Features
Novice Friendly Lessons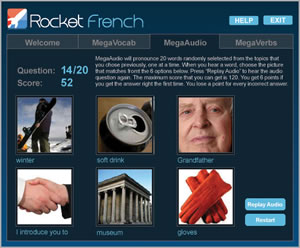 While French is a widely spoken language, there are individuals who do not know a single French word. RocketLanguages devised a system that would allow effective learning, even for those who have never been significantly exposed to the French language.
Rocket provides a combination of audio as well as text based lessons that would enable users to hone their skills at an impressive rate, regardless of their native language and/or existing knowledge of the French language.
Extensive Audio Lessons
The RocketLanguages French package contains a number of learning tools, one of which is a collection of 30 audio lessons; each one is 25 minutes long. One of the most remarkable things about French is that it is a predominantly nasal language.
This fact is usually what scares off people who are contemplating on learning the language. However, the French package offered by Rocket Languages makes up for this by using learning concepts that are easy to grasp, as per the data found in every audio lesson.
Users can listen to the audio lessons repeatedly until they are satisfied with their speech patterns.
Perfect for Travelers and Vacationers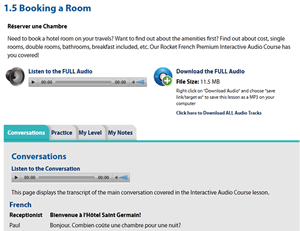 Those who are planning their first trip to Europe should definitely choose RocketLanguages French, as it includes practical lessons on French phrases and sentences that are used in various social encounters such as:
Perusing the menu of, and Ordering at a French restaurant/coffee shop
Asking for directions from French locals
Declaring your destination/s to French cab drivers
Making hotel and/or restaurant reservations
Conversing with French locals
The importance of knowing basic French phrases and sentences is instilled upon every rookie traveler who dares to take on Europe for the very first time.
Guaranteed Fluency at a Native Speaker Level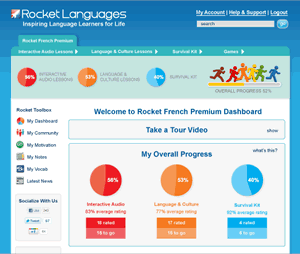 Rocket French provides so much more than just the basics, such as pronunciation and an extensive list of French words. The ultimate goal is to allow users to become native sounding speakers, who are not only proficient but also confident.
A large aspect of the French language is the air of superiority that comes with it, which necessitates building as much self-confidence as possible. You would want to come across as someone who have been speaking French his/her entire life.
Rocket Record Feature
Users of French Rocket Language never have to take a guess when it comes to their level of mastery and fluency, with the use of Rocket Record. This feature allows users to record their own voice and compare it to the wave form of the native French speaker (host).
The Rocket Record is an ingenious addition to an already comprehensive list of tools that are designed to promote fluency, and allow self-rectification. You can record various phrases/words repeatedly until you sound just like a native speaker.
Over 60 Culture Related Lessons
The French take pride in their heritage, of which language is a big part. Those who want to gain extensive knowledge about the French, apart from their language, will certainly be delighted by the culture lessons provided by RocketLanguages for this particular program.
Some of the lessons tackle the French way of living, their taste in music, arts, and how people in France view life in general. Culture lessons also touch on French food, and how it factors into the language. Among the 2700 French words and phrases, you will most likely encounter a few hundred words that are related to food and wine.
Advanced Learning Techniques for Faster Progress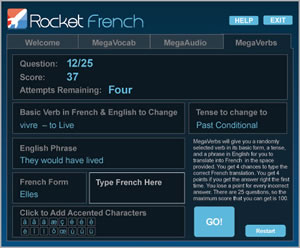 The Motivation Center is a learning tool, which allows for fast tracking one's progress. It provides systematic tutorials that help enhance your memory, thereby reducing the time you need to devote to every lesson.
The simple but very practical tips aid users to retain more words and phrases, especially those that are often used in French vernacular.
This feature is in no way a shortcut, because it does not involve skipping steps. Instead, it reinforces what a person has already learned so that he/she does not need to go back to the specific lesson or module.
Effective Progress Tracking
It is always necessary to know where you are in the program, and how you are advancing as far as fluency and mastery is concerned. The real time and accurate progress tracker included in the Rocket French package is designed to ensure that users are always aware of how well they are coping with the lessons, and how much of it they managed to retain.
Drawbacks
In truth, there is none. The difficulty can only be expected on Day One, especially if you have not the slightest idea how to speak French. All necessary tools are provided for, and the rate of your progress will depend largely on whether you devote an adequate amount of time to the program.

While French is one of the hardest languages to learn, Rocket French makes it possible for ordinary people to acquire it in record time. Consumers like yourself are therefore highly encouraged to purchase this package and start learning the most romantic language in the world.